You will find the complete suite of resources that support evaluation for improvement in early childhood services on this page.
Ngā Ara Whai Hua

suite of resources
Under the foundation document are three shared ERO and early childhood services evaluation resources:
Te Ara Poutama

– Indicators of quality is at the core of the quality framework. ERO expects all early childhood services to use the Indicators in their internal evaluation and planning for improvement. They form the basis of our external evaluations of early childhood services.

Ngā Rāpupuku

Indicators Poster outlines the conditions that support quality early childhood education, along with the valued learning outcomes. It presents the Indicators in relation to the learning and organisational conditions, and includes the questions ERO and services ask when working with the Indicators.

Akarangi

Quality Evaluation Judgement Rubric is used in conjunction with the Indicators. It supports early childhood services to make judgments about the extent to which they have the learning and organisational conditions to support equitable and excellent outcomes for all learners.
Further ECE sector resources to support early childhood services and parents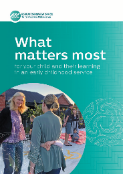 What Matters Most: A guide to help parents and whānau understand what matters most for their child and their learning in an early childhood service. This guide helps parents and whānau to know what they can expect from an early childhood service and what questions they might ask about the quality of the service.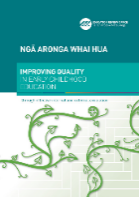 Ngā Aronga Whai Hua: Supports early childhood services to engage in internal evaluation and ERO's external evaluation using Te Ara Poutama – Indicators of quality for early childhood education: what matters most. It builds on Effective Internal Evaluation for Improvement (2016) and replaces most of the content in He Pou Tātaki: How ERO reviews early childhood services (2013).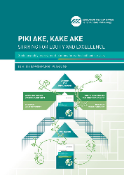 Piki Ake, Kake Ake:  A guide to quality improvement planning for early childhood services. It supports services to plan for improvement based on the findings from internal and external evaluation and includes some examples.
Contact us if you have not received a pack with the three new resources by the end of August. Email info@ero.govt.nz.
Further information: How ERO reviews early childhood services | Education Review Office.