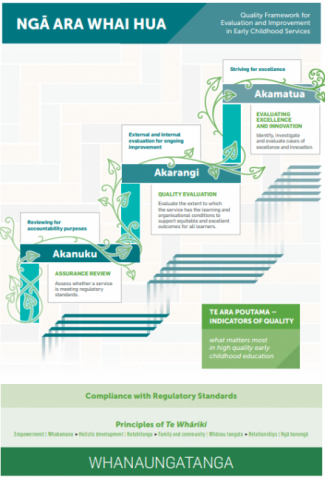 Ngā Ara Whai Hua: Quality Framework for Evaluation and Improvement in Centre-based Early Childhood Services outlines our approach to review and evaluation for accountability and improvement.
This Framework is very strongly focused on improvement while maintaining a focus on compliance with regulatory standards, and provides a new set of Indicators to support services in continuous improvement. The ultimate aim is to ensure quality early learning.
This Quality Framework encourages services towards continuous improvement, and shows how we are differentiating our evaluation approach and how we are reporting our findings.
The Quality Framework will be the "steel backbone" for evaluating quality and performance and a basis for new ways of reporting our findings to its various audiences.
We want all services to be on a pathway of ongoing sustained improvement through a strengthened focus on the accountability part of our function.