We evaluate the performance of the education system, the effectiveness of programmes and interventions, and shine a light on good practice.
Our work helps those in the education system to:
understand the performance and quality of education in New Zealand
develop the evidence base about what works to improve learning outcomes for all students
support education system reform, and evidence informed decision making and improvement in practice
reflect and integrate a

te ao Māori

worldview in the creation, implementation and dissemination of knowledge found through research and evaluation.
We regularly publish research and reports
Read the research we have published.
Our latest release  
Receiving a quality education, from early childhood education (ECE) through to secondary school, positively affects how well all children and young people do at school and in life – from academic achievement and earning potential to health and wellbeing. Education is even more critical for disabled learners. When disabled learners receive a quality, inclusive education they are more likely to achieve better outcomes, to complete secondary schooling and to go on to further study and employment.
Our most recent research, which includes two reports looking at schools and early childhood education, looks at how well the education system is supporting disabled learners. It found that too many disabled learners are experiencing exclusion - and sets out what changes are needed to improve education for disabled learners so they can thrive.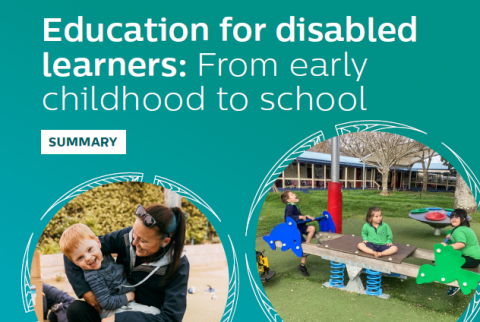 We continue to research a range of questions
Read more about questions we are asking.
We are asking a range of research questions and use our work in schools and services, alongside broader research to:

We hold research seminars about areas impacting New Zealand education
Find out about our regular seminars and forums.
Who we work with
We work closely with experts, whānau, iwi, and communities to ensure that our work reflects their perspective, the most up-to-date knowledge and appropriate tools and approaches.
We partner with organisations including the Ministry of Education, NZCER and universities to strengthen the evidence base and make better use of data.
For more information
Contact Te Ihuwaka: TeIhuwaka@ero.govt.nz