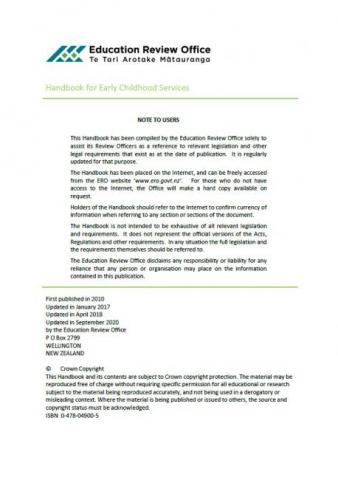 Summary
This Handbook covers relevant legislation and requirements that early learning services and kōhanga reo must follow. Our review officers use this Handbook as part of their review.
This handbook does not represent the official versions of the Acts, regulations and other requirements. We recommend referring to the full legislation and requirements when needed.
Who can use this handbook
This Handbook has sections for each type of early childhood service. Refer to the relevant section for your service.
The Acts, regulations and sources we draw this material from
This Handbook covers content from the following sources. We haven't always included the full excerpts from the Acts and regulations.
Education and Training Act 2020

Education Act 1989 (Saving provisions)

Education (Early Childhood Services) Regulations 2008

Children's Act 2014

Food Act 2014

Food Regulations 2015