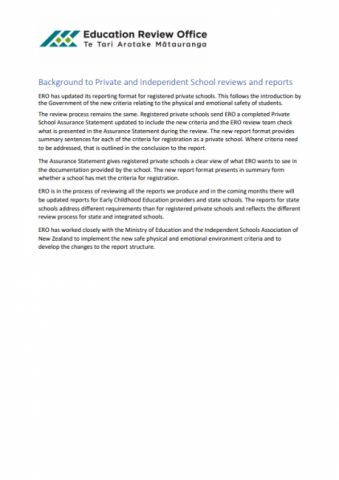 ERO has updated its reporting format for registered private schools. This follows the introduction by the Government of the new criteria relating to the physical and emotional safety of students.
The review process remains the same. Registered private schools send ERO a completed Private School Assurance Statement updated to include the new criteria and the ERO review team check what is presented in the Assurance Statement during the review. The new report format provides summary sentences for each of the criteria for registration as a private school. Where criteria need to be addressed, that is outlined in the conclusion to the report.
The Assurance Statement gives registered private schools a clear view of what ERO wants to see in the documentation provided by the school. The new report format presents in summary form whether a school has met the criteria for registration.
ERO is in the process of reviewing all the reports we produce and in the coming months there will be updated reports for Early Childhood Education providers and state schools. The reports for state schools address different requirements than for registered private schools and reflects the different review process for state and integrated schools.
ERO has worked closely with the Ministry of Education and the Independent Schools Association of New Zealand to implement the new safe physical and emotional environment criteria and to develop the changes to the report structure.