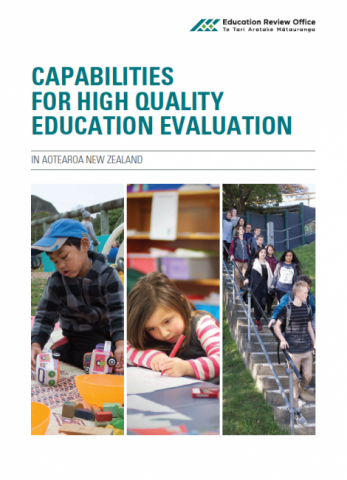 Introduction
Purposes and uses of the ERO evaluation capabilities framework
The framework defines the capabilities that are needed to undertake and deliver high quality education evaluations in the diverse contexts of Aotearoa New Zealand.
The capabilities are intended to:
guide professionalisation of our evaluation thinking and practice

guide provision of our evaluation training and professional development

assist individual evaluators to self-evaluate their own knowledge, skills and practice; make decisions about and monitor their own development

underpin quality assurance, both internally and externally

underpin the credibility and integrity of ERO's evaluation work

support high standards and consistency of our professional evaluation practice across the organisation

be an explicit basis for Individual Development and Performance Management (IDPM) processes.
At the centre of the diagram is a circle marked "The Evaluator". Outside that is another larger circle marked "Personal qualities and dispositions", then another marked "Education and evaluation knowledge and theory". Finally outside that is a circle marked "The Public Servant" that also says "AOTEAROA NEW ZEALAND" and "TE TIRITI O WAITANGI" around the edges. 
Inside the diagram are four transparent circles that each overlap between the outer three circles. They are labeled "Professional leadership
and teamwork", "Interpersonal and communication skills", "Cultural/contextual understanding and responsiveness" and "Evaluation practice".
Outside the outer rim is a decorative koru shape. 
Defining the space that the Education Review Office evaluator occupies
We are professional, public service, education evaluators.

We are committed to honouring

Te Tiriti o Waitangi

and value bicultural partnerships.
We are guided in our work by our whakataukī: Ko te Tamaiti te Pūtake o te Kaupapa.

Our evaluation insights are a catalyst for change so that every child achieves success as a lifelong learner.

We meet the requirements of State Services Commission Standards of Integrity and Conduct, to be: Fair, Impartial, Responsible and Trustworthy.

We advance ERO's commitment to achieving equity and excellence for all learners.

We evaluate the performance of educational services, for purposes of improvement and accountability.

When we evaluate, we systematically determine the quality, value and significance for their learners of what educational services provide.

We focus our evaluations firstly on outcomes for learners; then on organisational conditions (processes) for accelerated and sustainable improvement in learner success.

Our work is informed by knowledge and understanding of education and evaluation, their theory and practice; and of the social, political, cultural and linguistic contexts in which they occur.

We know about, understand and make adaptive and responsive use of high quality evaluation approaches, methods and techniques.

We use utilisation-focused and participatory evaluation approaches, and acknowledge the influence of other, related evaluation theories.

We make well-considered and rigorous use of quantitative and qualitative methods and techniques to ensure the integrity of our evaluations so that our judgements are credible and valid.

We ensure purposeful interaction between our external evaluation of educational services and their internal evaluation.

Our work is transparent and well understood.

We produce high quality, useful and relevant evaluation information which we communicate well for impact.
Context
Education Review Office evaluators professionally exercising their role in the context of:
Domains and Capabilities
1. Evaluation role     
1.1 The public servant
Acts, communicates and practises professionally as a public servant
Knows and acts according to the legislative, regulatory and policy contexts of education and education evaluation

Understands and advances Government priorities in relation to ERO's statutory evaluation role

Demonstrates political insight

Advances ERO's purpose

Demonstrates the requirements of the State Services Commission Standards of Integrity and Conduct
1.2 Education and evaluation knowledge and theory
Demonstrates education and evaluation knowledge and understanding of theory in relation to:
the education system and the role of education evaluation in Aotearoa New Zealand

the system context for education for Māori and Māori medium education

the diverse social, cultural and linguistic contexts of education and education evaluation

equity and excellence of education opportunities and outcomes for diverse learners

effective education practice for improvement and learner success, and its research base

curriculum, assessment and pedagogy for learner progress and accelerated progress and achievement

culturally responsive pedagogy for Māori learners:

manaakitanga; whanaungatanga; mahi tahi; kotahitanga; whakapapa; ako; wānanga; kaupapa

evaluation theories and approaches

evaluation purposes, programme theory, theories of change and logic

evaluation and research methods and techniques
Te Tiriti o Waitangi
Aotearoa New Zealand's bicultural heritage and diverse society
Domains and Capabilities
2. Professional practice
2.1

Leadership and teamwork
Leads teams effectively and participates productively as a team member
Articulates a clear view of self as a professional ERO evaluator

Develops the professional knowledge, skills and practice of self and others

Mentors and coaches others to good effect, maximises team and individual capability

Provides timely and useful feedback and feed forward that supports development

Conducts constructive team and working relationships, achieves purposeful collaboration

Solves problems, provides solutions and resolves conflicts

Makes valuable contributions to the discipline of evaluation and the professional evaluation community
2.2 Evaluation
Uses accepted approaches, methods and techniques* skilfully to ensure evaluation credibility and validity
Analyses situations, contexts and available data to inform decision making for evaluations

Designs evaluations that have a clear purpose, are adaptive, prioritised and strategic

Focuses evaluations firstly on outcomes for learners, and then on organisational conditions for learner success

Organises and manages evaluation processes that are transparent and well understood

Ensures purposeful interaction between external and internal evaluation

Undertakes systematic inquiry to establish a sufficient evidential basis for judgements

Gathers robust and rich data for system evaluation

Withholds judgement until the required evidence is gathered and carefully considered

Makes good use of indicators to assist evaluation thinking, discussion and sense making

Analyses, synthesises and applies evaluation reasoning to evidence, for meaning making

Makes clear and fair judgements about educational quality, value and significance for learners

Constructs a coherent evaluation picture of the performance of an educational service for its learners

Produces useful and actionable evaluation information

Communicates evaluation findings effectively, for impact
The public sector and machinery of government
ERO's role and purpose
Domains and Capabilities
2.3 Contextual and cultural understanding and responsiveness       
Undertakes high quality evaluations that are responsive to culture and context, in terms of:
cultures, languages and identities

te ao Māori

and

ngā tikanga

Māori

bicultural and multicultural contexts
Uses te reo Māori with increasing expertise and confidence
2.4 Interpersonal and communication skills  
Uses interpersonal and communication skills effectively
Manages evaluation relationships astutely and effectively

Recognises and manages evaluation anxiety in others and self

Listens actively to understand, ensures others have the time and space they need to think and speak

Employs negotiation and conflict resolution skills to good effect when needed

Facilitates and co-constructs evaluation discussions and activities for authentic and meaningful participation, and evaluation capacity building

Communicates evaluation information and reasoning clearly and convincingly to promote understanding, ownership and use for improvement

Communicates well in a range of modes: written, oral, visual, digital; and according to culture and context

Adapts communication of evaluation information skilfully to meet the needs of diverse audiences and situations
3. Personal qualities and dispositions
Respects people, their values and ways of being, and upholds their mana

Responds to people and situations with insight and sensitivity

Is a reflective practitioner and shows humility

Is open minded and maintains objectivity

Thinks critically and acts ethically

Is open to professional critique, receives and uses feedback for own development

Is aware of and examines own biases and assumptions, and recognises own limits

Is self-managing and professionally disciplined

Takes a considered approach and works well under pressure

Remains calm and deals productively with ambiguity, uncertainty and complexity

Shows resilience and resoluteness

Works in ways that are adaptive, flexible and agile

Demonstrates self efficacy and agency

Seeks and accepts help from others when it is needed
Appendix:
* Evaluation theories and approaches, methods and techniques – knowledge and skills of the ERO evaluator
Theories and approaches
utilisation-focused, participatory and collaborative, accountability-focused, democratic, culturally-responsive, kaupapa Māori and indigenous, social justice, empowerment, success case, developmental
Methods
quantitative, qualitative and mixed

outcome and impact evaluation

process evaluation

formative evaluation

summative evaluation
Techniques and skills
programme logic/logic modelling

theories of change, theories of improvement

situation analysis and systems thinking

risk identification and management, problem solving, conflict resolution

organisation and management, time management, project management, relationship management

evaluation design and focusing – deciding evaluation questions, evaluation tools and activities, and investigative pathways

facilitation, co-construction and negotiation

interviewing, questioning and group discussion facilitation

listening

direct observation

triangulation of information, determining sufficiency of evidence, systematic and focused evidence gathering

analysis and interpretation of data/information – identification of trends and patterns

auditing for compliance and accountability

use of evaluation indicators and criteria

evaluation reasoning

synthesis and evaluation meaning making

formulation of valid evaluation judgements

oral and written communication, reporting, digital fluency
Our evaluation insights are a catalyst for change so that every child achieves success as a lifelong learner
Ko te Tamaiti te Pūtake o te Kaupapa
The Child – the Heart of the Matter