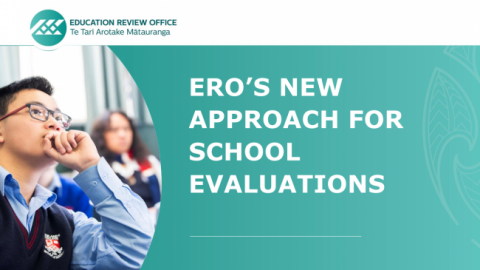 Equity and Excellence Remain a Major System Issue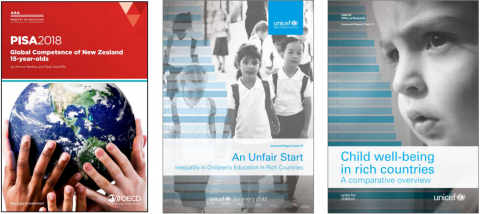 First publication cover image from the Ministry of Education is for PISA2018 Global Competence of New Zealand 15-year-olds.
Second publication cover image from Unicef is titled "An Unfair Start: Inequality in children's education in rich countries"
Third publication cover image from Unicef is titled "Child well-being in rich countries: A comparative overview.
What has informed this new approach?
Multiple sources of information and feedback over time:
Tomorrow's Schools Taskforce findings
Post-review questionnaires
Facilitated meetings with principals
Discussions with national groups
External Reference Group
Feedback and insights from ERO staff
Information and research from other jurisdictions
Building on feedback about what's worked well
Onsite

kōrero

informed by evidence

Kōrero

acting as a catalyst for change and improvement
Our particular skillset - the "evaluation lens"
Seeing things from an external perspective
Unique system position sharing good practice
Schools identified how our approach could be improved 
"Schools are complex. Respond to our individual context"
"Periodic school reviews have limitations. Align your school evaluation with our improvement cycles"
"Give us more opportunity to participate and collaborate in our evaluation"
"Support us to translate evaluation into action"
"Share best practice and insights from your work across the sector"
"Focus with us on what makes the biggest difference to learner outcomes"
Principles and Values
What will be different?
What will be the same?
The Treaty of Waitangi
Protection, Partnership, Participation.
Building an evaluation approach grounded in:
Whanaungatanga
Supporting each other to grow and learn
Mahi Tahi
Doing the best for each other
Poutokomanawa
High-quality trusted evaluation for improvement
Principles of the new approach - the difference
ERO aims to prioritise the things that matter most through an improvement -orientated approach that is:
Collaborative
Tailored
Informed by Evidence
Focused
Responsive
What will remain the same?
ERO's role in evaluating sector performance for accountability, educational improvement, and knowledge generation
Our commitment to our whakataukī "Ko te tamaiti te pūtake o te kaupapa The Child at the heart of the matter"
Our combined focus on equity and excellence – particularly for Māori, Pacific and students who need additional support
Working together with schools and others focusing on:
Mahi Tahi: Doing the Best for Each Other
Equitable and excellent educational outcomes for all
High-quality teaching and learning
Strong community and whānau partnerships
Inclusive cultures of high expectations
Highly effective leadership and governance
A culture of continuous improvement
What Will the Approach Look Like?
Caveats
Work in progress
Evaluate as we go along
English medium and state sector only
A partnership approach for evaluation and improvement
A review officer working with you
Forming an ongoing evaluation relationship
Developing a bespoke and differentiated evaluation for your context
Identifying what resources might assist your school's improvement journey
Starting with what matters most for your school
Valued student outcomes
Local curriculum aligned to New Zealand Curriculum
Opportunities to learn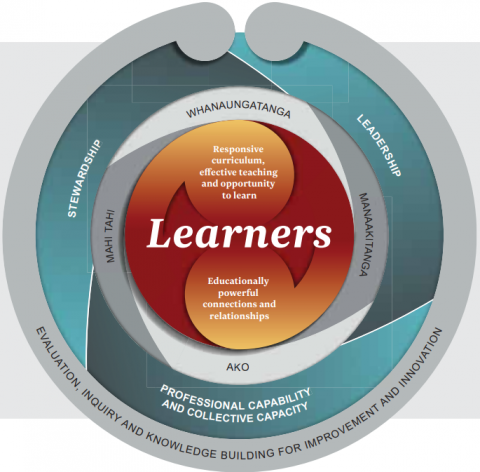 This diagram represents the evaluation indicators framework with the indicator domains as a series of circles within a larger circle. At the centre are learners. Closest to learners are the two key conditions for learning: Responsive curriculum, effective teaching and opportunity to learn; and, Educationally powerful connections and relationships. Moving outward, the next circle shows the Māori concepts for culturally responsive schooling: manaakitanga, whanaungatanga, ako and mahi tahi. The next circle shows the school organisational conditions: Stewardship, Leadership and Professional capability and collective capacity. The final, outer circle encompasses the rest and shows the domain of Evaluation, inquiry and knowledge building for improvement and innovation. The diagram suggests interaction and connection between and across the domains to support learners.
A circle split into 4 quarters with arrows showing movement in a circle.
Text in the middle is Focus on valued outcomes for diverse (all) learners.
Circle quarter at top left reads Implementation of high-impact pedagogy for valued outcomes for diverse (all) learners.
Circle quarter at top right reads Activation of educationally powerful connections.
Circle quarter bottom right reads Leadership of conditions for continuous improvement.
Circle quarter bottom left reads Productive inquiry and knowledge-building for professional and policy learning.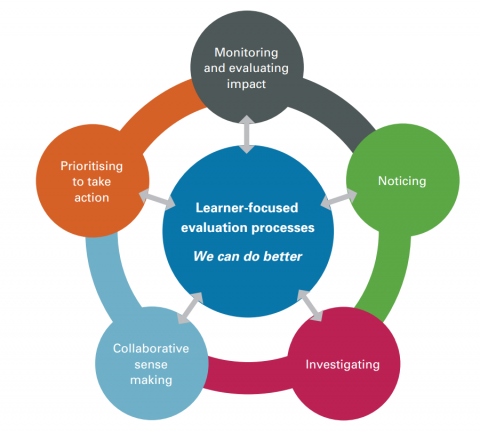 The processes form an outer circle, linked at each stage to each other and to learners at the centre. The cycle of processes starts with Noticing. It moves next to Investigating. This is followed by Collaborative sense making. From there to Prioritising to take action. The cycle concludes with Monitoring and evaluating impact. From there the cycle repeats. The central theme is stated as We can do better.
Embedding evaluation in your school's quality improvement cycle
Whanaungatanga - Supporting Each Other to Grow and Learn
An Evaluation Process Linking to School's Strategic Planning Priorities
Focused on Continuous Improvement With Evaluations That Reflect Your Ongoing Work for Improvement
Solution Oriented Providing Ongoing Evaluative Feedback, Building Internal Evaluation Capacity
Joined up Coherently With External Partners
How we will work together
Whanaungatanga - Supporting Each Other to Grow and Learn
Initial engaging
Exploring and deciding
Differentiating and designing
Evaluating for improvement
Planning and reporting
What Happens Next? From Engagement to Action
Kei Hea Inaianei

? Where to From Here? - Nationally

Whanaungatanga - Supporting Each Other to Grow and Learn
Sharing the development with principals
Developing the approach in 75 schools across the country
Including schools of varying sizes and types
Gathering real-time feedback from schools and our evaluators
National planned timeframe
ERO is developing an approach iteratively:
Group 1 - We are now meeting with schools taking part in the research and development of the approach
Group 2 –Beginning Term 1, 2021, ERO will make adaptations to the approach and begin the next round of implementation
What we want to achieve - better outcomes for our
tamariki

and our future
Building trust across the system
Being future oriented
Strengthening evaluative capability in the system
Working more collaboratively and in a joined-up approach
This will allow us to learn as we go and get real-time feedback from you and from our evaluators. The detail will be key - we need our collective insights to get this right.
We Will Continue Our Korero
Take care of our children.

Take care of what they hear,

Take care of what they see,

Take care of what they feel.

For how the children grow,

So will be the shape of Aotearoa.

 - Dame Whina Cooper