Tēnā koutou  
Our mahi is to inform and facilitate improvement in early childhood services, schools and kura. We do this through our institutional reviews and system-wide evaluation and research that is focused on the provision of education and the care of learners. As I periodically do through ERO's Insights Newsletter, I want to share some of our findings with you.   
Ngā mihi
Nicholas Pole 
Te Tumu Whakarae mō te Arotake Mātauranga I Chief Executive and Chief Review Officer
Institutional reviews
Through our reviews, we discover and can identify what great early childhood services and schools do - in Kaupapa Māori, Ara Māori, English-medium and Pacific-medium contexts.  
Our collective strength lies in building a connected and collaborative education system that has at its heart the success of each and every learner. Ko te Tamaiti te Putake o te Kaupapa.
In the English-medium setting, by next year, all schools will have joined the continuous improvement journey of Te Ara Huarau. This approach, which was previously known as the new schools operating model, has been overwhelmingly supported by schools already onboarded. Schools are telling us the focus on partnership and the school's continuous improvement journey are highly valued. 
As schools transition (over 1380 to date) to Te Ara Huarau, we have been gathering feedback and have adjusted our approach to better suit real-life school context. We expect that all English-medium state and state integrated schools will be engaged with Te Ara Huarau in 2023.  
One of the changes we've made to facilitate improvement over time is having different types of evaluation reports and developing self-audit processes for schools to provide assurance that school Boards are taking all reasonable steps to meet regulatory and legislative requirements. 
Te Uepū a Motu, the evaluation and review team, is working with kōhanga reo, puna reo, kura and wharekura - alongside peak bodies, focused on quality and improvement. This mahi includes trialing work underway with refined evaluation methodologies in and across kōhanga, puna and kura. For each of the groups represented in Kaupapa Māori and Ara Māori who are reviewed by ERO, there is specific attention to the type, the philosophies, principles and the aspirations of whānau, hapū and iwi.   
Early childhood services
We have developed further resources for early childhood services to support internal evaluation for improvement, and to help parents know what to expect from their child's service. Ngā Ara Whai Hua: Quality Framework for Evaluation and Improvement in Early Childhood Services outlines our approach to review and evaluation for accountability and improvement. The complete suite of our early learning resources is available on our website.
When we talk about accountability, it includes providing a healthy and safe environment for children. Review findings over the last few years have identified a growing concern about the rate of non-compliance with regulatory standards and associated licensing criteria in early childhood services.   
Equally, it's encouraging that once non-compliance is identified, many services respond quickly to address the issues. A discussion with sector representatives and organisations in March this year about our review findings was well received with an ardent commitment to address these concerns.  
More about what we're seeing and how to remedy the most common areas of concern is available on our news section: Essential for early childhood services to address non-compliance. Proactively released briefings are published on our website. For further reading go to: M22-12 Signed Akanuku and Akarangi findings.PDF (ero.govt.nz); Signed M21-50 Briefing - ELS C~e Update coversheet & briefing.PDF (ero.govt.nz) 
System-wide evaluation and research
ERO's research and evaluation provides a strong basis for generating effective system level information and evaluation, guiding improvement in these areas. One of ERO's core roles is uncovering the reality and experiences of learners, whānau, schools and services to inform policy and practice. Conducting national evaluations and research, drawing on these insights and informing the national picture is a critical part of our role. We have explored a wide range of topics that has an impact on learning including Covid-19 and its impact on learners and principals; cultural responsiveness; and cohort entry.  
The He Iho Ruruku reports
The He Iho Ruruku reports explore the impact of the 2021 second wave of national lockdowns on Māori learner success. These three reports reveal the compounding impacts of the pandemic with many Māori learners and whānau continuing to face inadequate access to household necessities, digital devices, internet connectivity, and a lack of suitable resources for te reo Māori learning.
The Te Reo Matatini me te Pāngarau 2021 evaluation
The Te Reo Matatini me te Pāngarau 2021 evaluation shows how participants modified their teaching and learning programmes to better suit the needs of their learners. They intentionally focus on the integration of the NCEA standards through their te marau ā-kura. Leaders, professionals, kaiako and kaimahi are extremely effective in developing and using innovative tools and resources to support student progression.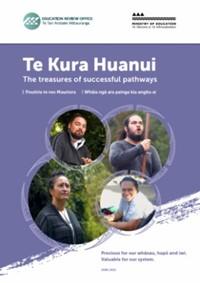 Te Kura Huanui report
Te Kura Huanui report highlights characteristics of educational success and provides insight into the role of whānau, hapū and iwi throughout the learning journey. This reflection also gives valuable examples for empowering Māori learners to succeed, that may be applied to other learning environments. The culmination of a collaborative research project between ERO, Māori-medium peak bodies – Te Rūnanga Nui o Ngā Kura Kaupapa Māori, Ngā Kura ā Iwi o Aotearoa, Te Kōhanga Reo National Trust and individual kaupapa Māori sites. 
The COVID-19 Story
The COVID-19 Story - in the days preceding 26 March 2020, we saw rapid response to move to distance teaching and learning. Informed at midnight 25 March 2020 that the entire country would go into COVID-19 Alert Level Four Lockdown, these are their stories. 
The COVID-19 Story of Te Aho Matua Kura
The COVID-19 Story of Puna Reo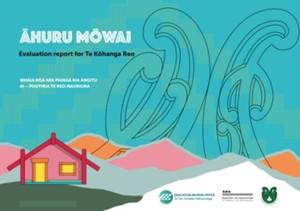 Āhuru Mōwai
Āhuru Mōwai is a reflection of Kōhanga Reo on their particular educational approach.
Principals and teachers have told us that COVID-19 has had a big impact on their work and wellbeing.
Principals and teachers have told us that COVID-19 has had a big impact on their work and wellbeing. Our research from late last year found that teachers and principals have innovated to meet the needs of their students and communities — but this has come at a cost. Teachers' and principals' enjoyment in their work is low and declining, and they are finding workloads increasingly unmanageable. This research highlights what we found and sets out what support we think will be needed for teachers and principals going forward.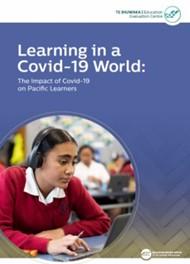 Pacific learners

are facing significant impacts in the face of COVID-19.
Pacific learners are facing significant impacts in the face of COVID-19. Our new research shows that although Pacific learners and communities have been remarkably resilient in facing the challenges of COVID-19, Pacific learners were disproportionally impacted. There is a risk that the pandemic will have long-term impacts on Pacific learners, and this new research outlines what some of these may look like. It also highlights ways teachers, schools and whānau worked to support learners during the pandemic and sets out key actions the education sector and wider system can take to support Pacific learners going forward. 
Culturally responsive teaching in ECE
What does culturally responsive teaching in ECE look like in practice? As Aotearoa becomes more ethnically and culturally diverse, we know that kaiako need to deliberately respond to children's unique way of being, knowing, and doing. In February we released research looking at how children's cultures and languages can be reflected in everyday practice, supporting their learning and wellbeing. This research sets out examples of good practice we saw and provides suggestions and prompting questions to support and inspire kaiako.
Te Aho o te Kura Pounamu (Te Kura)
Our evaluation of Te Aho o te Kura Pounamu (Te Kura) has found that what used to define the school's primary purpose – the provision of distance education to learners in isolated and rural communities – no longer applies. The school is catering for a more diverse student roll with a large proportion of students experiencing complex social circumstances and psychological issues. Our report considers how well the current education system settings and implementation practices enable Te Kura to meet the needs of its ākonga and the government's overall expectations of Te Kura.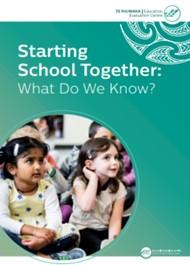 Starting school together
Starting school together – what do we know about cohort entry? This month we released research looking at the impact of cohort entry in schools on children, families, schools and ECE services. This research found that children starting school in scheduled groups can have many benefits for children, whānau and schools – and is something schools may wish to consider. To support schools thinking about cohort entry, as well as parents and ECEs in areas where the local school may be considering cohort entry, we have produced a suite of resources with key considerations.
Upcoming research
The next suite of reports by Te Ihuwaka, ERO's Education Evaluation Centre, will look at the quality of education provision for disabled learners in Aotearoa. ERO is looking at how well disabled learners, from early learning through to secondary school, are faring in our education system and the quality and inclusivity of education for them. This work will identify if there are actions that can lead to improved outcomes for disabled learners and real-life examples of where practice is working well, and why. 
ERO's Long-Term Insights Briefing
In April, we completed our initial public consultation on a proposed topic for ERO's Long-Term Insights Briefing (LTIB). We asked the public for feedback on the topic: Responding to Diverse Cultures: Schools' Practice. Submissions were overwhelmingly supportive of gaining a better understanding of the experiences of this group of learners and their families in the education system. We aim to publish the final report by November 2022 under the title: The Embracing Diverse Cultures: School Practices. 
Students learn best in safe and effective environments
The educational and social development of students at school is closely linked to their physical and emotional safety. Students cannot learn effectively if they are physically or verbally abused, victims of violence, racial or sexual harassment, discrimination or bullying, or if their school surroundings are unsafe. Our evidence shows that not all places of learning provide a safe physical and/or emotional environment.   
Every adult who is in contact with tamariki children has a role in their protection, including those in the education system. As ERO, we have a reviewing and oversight role of effective child protection policies and processes, which forms one part of a broader system to protect tamariki children: Students learn best in safe and effective learning environments.
The revitalisation of te reo Māori and tikanga Māori
The revitalisation of te reo Māori and tikanga Māori is well on track as we're seeing an increase in the use of te reo and tikanga Maori in everyday school life. An expectation in the National Education and Learning Priorities is that schools meaningfully incorporate te reo and tikanga Māori into their everyday life. A quick survey of teachers on te reo Māori told us that schools are actively finding ways to include te reo and tikanga Māori in curricula and broader school life.  
It's encouraging that schools are willing to engage and are seeking advice from Māori, whānau, hapū and iwi about how best to include tikanga Māori in values, practices, and organisational culture. We know there may be barriers around confidence in "getting it right", and in being authentic and appropriate. While the process for establishing school/whānau, hapū and iwi relationships takes time, there is a genuine willingness and openness to learn. Some boards and trustees are increasingly prioritising and funding te reo and tikanga Māori strategies.  
Going forward, ERO will also be playing a key role in the evaluation, research and monitoring of te reo Māori in English-medium schools. We welcome this mahi that contributes to the national language revitalisation strategy and aide in the provision of quality te reo Māori education. ERO welcomes Budget 2022 announcements supporting revitalisation of te reo Māori | Education Review Office 
Under the Public Service Act 2020, all our staff are required to have a greater understanding of te ao Māori and te reo Māori and to strive for education that supports and celebrates the language, culture and identity of tamariki Māori everywhere.  
We are on our own path towards becoming a bicultural and bilingual organisation, where te ao Māori is braided into the work and ethos of our organisation.  
Our nation also recently celebrated the first uniquely te ao Māori public holiday. Matariki, where we remember the past, celebrate the present, and plan for the future was celebrated in our offices, in our cities and in our homes.  
To personalise the Matariki learning experience, the Ministry of Education released a suite of 51 resources for early learning services, schools and kura (for both Māori-medium and English-medium). These are available on a dedicated education portal: Kia māhorahora te reo Māori | Kauwhata Reo. 
Ka kite anō 
Nicholas Pole 
Te Tumu Whakarae mō te Arotake Mātauranga | Chief Executive and Chief Review Officer 
See more of our mahi: www.ero.govt.nz
Contact us: info@ero.govt.nz